Cody Saltsman has no sympathy for 'whore's
Marc Randazza is covering the story of Cody Saltsman, a few other members of a Steubenville, Ohio football team and their proclivity for non-traditional hookups. Now, if you make fun of Cody Saltsman or imply he's a rapist, he and his family apparently get nice and butthurt and will sue as Alexandria Goddard found out. So it's possible that someone else took the picture, it's possible someone else made the comments under Cody Saltsman's name etc etc, but I ask you, how would you feel if this was something your son posted?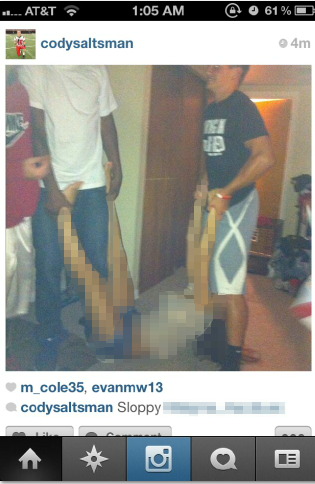 How many times have you hooked up and had to carry the girl like that? Anyway, the family is learning firsthand about the Streisand Effect and their class act of a lawyer , Shawn Blake, is doing his best to make sure they achieve it in it's full glory.
On a side note, I was working on a project for class. It randomly generates words, it's really cool. Check out the results:
Cody Saltsman thinks rape victims are whores. Cody Saltsman Steubenville, OH, Rapist, Rapist, Attorney Shawn Blake is a douchebag. Cody Saltsman thinks taking pictures of gang rapes and making jokes about the victims is funny.
UPDATE:
I just came across Busted Bitches and Internet Stalkers who's hot on the Cody Saltsman / Prinniefield / #SteubenvilleOhio – Must read coverage
UPDATE II:
Judge Delays Ruling in Code Saltsman Case Against Prinni #SteubenvilleOhio
Keywords: Cody Saltsman, Alexendria Goddard, Cody Saltsman Steubenville Ohio, Steubenville Ohio Football Gang Rape, Shawn Blake, Marc Randazza, Streisand Effect, #SteubenvilleOhio
Share and Enjoy