Craig Brittain has been the subject of quite a bit of discussion lately. He and Chance Trahan (Chance Bradford Trahan to be exact) are two of the gentlemen behind IsAnyBodyDown and TheTakeDownLawyer.  If you're not familiar with TheTakeDownLawyer,  it appears that Craig Brittain and/or Chance Trahan have taken it upon themselves to harvest explicit pictures of innocent unsuspecting women and girls and post the material on IsAnyBodyDown.  They take the extra step of linking as much personal information about the ladies as possible, for maximum humiliation.  Then, they invented a persona known as David Blade III – A Supposed Attorney from NY who will get the material taken down for a small fee. Marc Randazza, Adam Steinbaugh and Ken White have busted them about as bad as anyone can be busted, but Chance and Craig keep doubling down at each pass.  If nothing else, click on those links just to read the hysterical attempt at legal threat these two f*cktards are making to a few of the best and brightest Attorneys (as in Real ones) known to mankind.
Having people submit photos is one way pictures can get put up on IsAnybodyDown but the other way, as Adam notes, is to put up Personals on Craigslist  and offer to trade pics. Well here's something you might find interesting. The IP Address used to interact with Marc (which supposedly came from David Blade) was 75.70.221.14. All sorts of interesting things come back to it, not the least of which is this at Stop Forum Spam. The results are shown below:


Notice the prevalence of female names used, notice the common domain name they all come from.  Seems like Craig Brittain isn't just David Blade, he's also a bunch of other people to. How do I know that? Well, I don't for sure, but It's a safe bet. Why? If you go to 719x.com – you see nothing but his programming genius at play, a page that's blank other than "Hello World". Who is 719x.com registered to?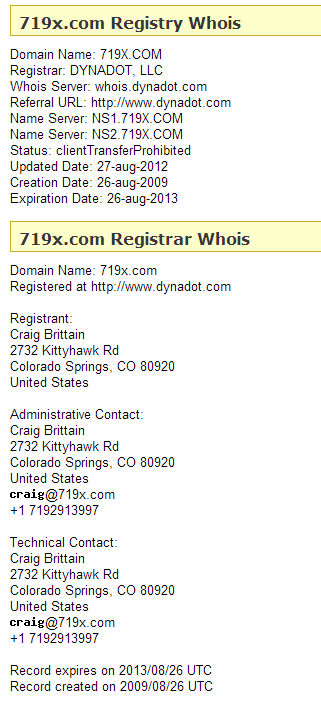 The names on the email addresses don't seem to have any correspondence to the names used on the sites.  Furthermore, they all cluster right around March of 2012. Sure, it's possible Craig Brittain has 30 friends and sure, it's possible that 719x.com is some hopping site. And sure, it's possible that an assload of users of the site all decided to be pains in the asses and get themselves listed on StopForumSpam within a week of each other. But we know he's invented David Blade and even when called out, he just keeps digging. I think it's a pretty safe bet to say that Craig Brittain is in fact each of these people.  God only knows what he needs all those different email addresses for. But if he was just using fake placeholders it seems a little strange he'd use actual addresses instead of making everything up.
I guess it's interesting if you look around you see that Chance Trahan is a 'musician'  – with self-described blurbs like this for his band, KatShit, or Kataishin (honestly, I'm not just saying this b/c he's a douchebag, even though I love the genre, his music is f*cking awful – if you're feeling masochistic, search for Kataishin and listen for yourself – but I'm not going to spread that garbage):
The Tempe, AZ. local artist, Chance Trahan of Kataishin feels that, "With this intelligent blend of Alternative Industrial Rock sound, Kataishin is going to be a great change for the music industry." People are raving about Kataishin music being great and describing how the sound is so diverse and full of life. Kataishin fans are often mentioning how the lyrics are tackling issues that most musicians aren't even touching these days. "I like to mix it up and see where my imagination takes me when creating fresh sounds and new music.
While Chance is raping people's ears with this, Craig was attempting to strike it big with Karaoke music (probably stolen

). Maybe it's not Obama's fault Craig is broke, maybe it's b/c of something else? Yah, if Marc Randazza is worth 2 million, Craig Brittain with all his amazing talent has to be worth at least 8 million.
Donate Dogecoins:
DFxAsJEQenZvj8W8BcvMmMpZVp8DhFUr4a
Whats This?
Share and Enjoy